Louisa Schneider
(10th November 1889 – 1943)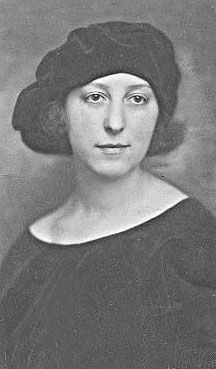 Louisa Rochla Schneider, the daughter of Hillel and Esther Schneider and Sophie's younger sister, was born in 1889. She married Mendel Schmul Muchinsky and lived with him in Chemnitz at Hübschmannstraße 12. They had two sons, Alex and Gideon. Louisa and Mendel were able to obtain the emigration of their two sons before the Polenaktion in 1938. Alex went to Denmark and Gideon to Palestine, where members of their families still live today.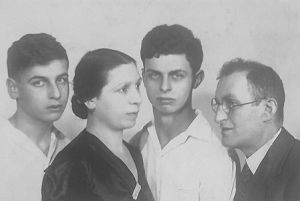 On 27 and 28 October 1938, the National Socialists ordered the short-term deportation of around 17,000 Jews with Polish citizenship. The deportations were carried out forcibly and under duress. This was preceded by a decree issued by Poland in March 1938, which stated that all Polish citizens who had lived abroad continuously for more than five years would have their citizenship revoked. On 9 October 1938 the Polish government decreed that from 30 October 1938 all passports issued abroad would only be valid with a visa from the Polish consulate. The Nazi government saw this decree as a threat to its plans to expel foreign Jews from Germany and therefore carried out comprehensive forced expulsions, the first mass deportations of Jews from the German Reich.
Mendel Schmul Muschinsky (b. 1889) and his wife Louisa Rochla Muschinsky (née Schneider, b. 1889) were deported to Poland on 28 October 1938 and from then on lived in the Łomża ghetto. After its dissolution, they were deported to the Auschwitz extermination camp, where they were murdered on 20 January 1943. Their sons had been able to escape prior to the deportation.
On 30 May 2017, the city of Chemnitz had Stolpersteine laid for Louisa and Mendel at their former home at Hübschmannstraße 12. The Sponsor was Peter Muschinsky, a relative from Denmark.
The Stolpersteine are financed by sponsors. The city of Chemnitz pays for the civil engineering work and the organisational services.
For 120 euros, every citizen can take on a sponsorship for the production and laying of a Stolperstein. Please send enquiries directly to the Chemnitz City Association of the VVN/BdA, Rosenplatz 4, 09126 Chemnitz.
https://www.chemnitz.de/chemnitz/de/unsere-stadt/geschichte/stolpersteine/verlegung_20170530.html