Sofie Schneider
Biography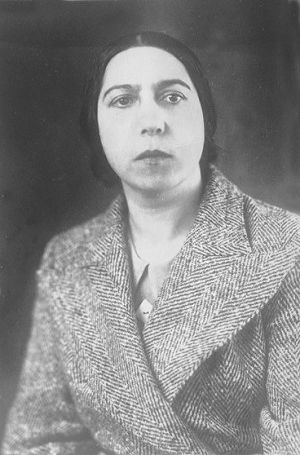 Sofie Schneider was born on 7 August 1891 in Sidra, in present-day Poland. She probably lived with her family in Leipzig from 1898 at the latest – as her father, Hillel Schneider, took up a cantor's post in the Leipzig Body Synagogue in that year. With ten sisters (Zilla, Yda, Sophie, Louisa, Zipora, Berta, Ana, Rosa, Dora, Mina) and one brother (Leo), she was the fifth/fourth oldest of the siblings.
From March to July 1909, Sofie studied for one semester at the Academy of Graphic Arts and Book Trade in Leipzig (today's Academy of Visual Arts/ HGB). Due to illness she was unable to attend classes regularly, which is why Sofie attended the academy as a guest student from 01 March 1910 to 29 February 1912. A sick note dated 20 May 1909 attests appendicitis . She did not resume her regular studies at the Academy of Art until after the end of the First World War.
On 6 November 1912, Sofie wrote a letter to one of her teachers, Professor Tiemann, asking for an improvement in her report mark:
Dear Professor!
As your student, I attended the Academy for one semester and would now like to ask you for a great favour. Since I have a favourable opportunity to continue my studies, it would be of great value if I could present a good report. Unfortunately, due to family matters, I have not been able to devote myself to my studies with such diligence as to earn a good report. I would be very grateful to you if you could improve my grade so that I could now show in my report the first grade that Professor Bossert gave me as a teacher.
The Chancellery of the Academy granted Professor Tiemann permission to improve Sofie's report mark. In a reply letter dated 3 December 1912, the professor informed her that he had "no reservations about improving her report card in terms of performance" , so that Sophie was issued a new report card with the corrections of the marks in the subjects "Drawing from Still Life" (from 3 to 2) and "Drawing from Life" (from 2 to 1). Presumably she needed an almost flawless report card to be able to apply to the predestined Bezalel Academy of Art and Design in Jerusalem, where she studied for two years.
In March 1914, before the start of the First World War, Sofie travelled to Jerusalem and was enrolled as a student at Bezalel from 28 March 1914 to August 1916. At the same time, the artist Had-Gadya (Marousia/Miriam Niessenholtz), who was the first woman to graduate from Bezalel, was also studying there. The Betzalel Academy was opened in 1906 as a state school of art and design by Professor Boris Schatz in Jerusalem. All arts and crafts were taught, from woodcarving, metalworking and carpet making to sculpture and painting. To this day, Bezalel is one of the most renowned art schools in the world.
During her time in Palestine, Sophie adopted the epithet Bath-Hillel (= the daughter of Hillel). Bath Hillel was henceforth given as Sophie's byname in official documents, until the time of National Socialism.
In Bezalel, Sofie took courses in painting and drawing, in handicrafts and in practical work. Due to a lack of knowledge of Hebrew, according to a certificate note, it was not possible for Sophie to take all subjects of study, as some were taught exclusively in Hebrew. Nevertheless, Sofie successfully completed her studies in Bezalel and travelled back to Leipzig in 1916.
Shortly before the First World War was officially considered over, Sofie resumed her studies at the Leipzig Academy of Graphic Arts and Book Trade. Here she was enrolled as a student from 14 October 1918 to 28 February 1919 and from 20 June 1922 to 28 February 1923. The Academy charged a school fee to be paid for each semester.
In the winter semester of 1922/23, Sophie applied for a reduction of the school fees to 5000 marks, which was approved by the Saxon Ministry of Economics in Dresden: "The Ministry of Economics approves that the school fees for the visitor to the Academy Sophie Schneider, Bath-Hillel be reduced to 5000 marks for the current winter semester".
This application and the certificates showing that Sofie was enrolled at the Academy of Graphic Arts and Book Trade in Leipzig until 1923 are important documents that provide information about Sofie's life in Leipzig. There is no further information/sources for the following thirteen years.
On 19 May 1936 Sophie wrote to the administration of the Academy of Arts and asked again for a certificate. According to her own information, she needed the certificates in order to be allowed to enter Africa. Presumably Sofie wanted to visit her sister Zilla and her nieces, who had already been living in Johannesburg since 1936. In addition, Sophie's passport records trips to Chemnitz. Her sister Berta had lived in Chemnitz with her husband, a Christian dentist. Also her sister Louisa and Louisas husband Mendel lived in Chemnitz at this time.
During her time in Leipzig, Sophie initially lived in her parents' flat at Lessingstraße 1. Since 3 July 1937, Eisenbahnstraße 37 is listed as her residential address in her passport.
The Jewish population had been discriminated against, excluded and dispossessed by the National Socialists since 1933. Since the pogrom night of 09/10 November 1938, the final destruction of the livelihood of Jews was accelerated. The "Ordinance for the Elimination of Jews from German Economic Life" of 12 November 1938 legalised mass forced expropriation. Since April 1939, a law was passed abolishing tenancy protection for Jews, which resulted in numerous flat cancellations. The Nazis built so-called "Judenhäuser" ("Jew Houses"), which Jewish families had to move into. One of these "Judenhäuser" was at Humboldtstraße 4 – after 1939 Sophie was also forced to live there. The expropriation and displacement measures were justified by the National Socialists to counteract a supposed "ghettoisation" and to encourage the Jewish population to emigrate from Germany.
The Reich Association of Jews in Germany as well as the Jewish communities and organisations endeavoured to support those willing to emigrate. The Benevolent Society of German Jews maintained a counselling centre in Leipzig from 1936 to 1939.
Sophie also made efforts to emigrate, as evidenced by a questionnaire from the Reichsvertretung der Juden in Deutschland (Reich Representation of Jews in Germany) in 1940. From May to June 1940, (presumably) all Jews still living in Germany had to describe in detail their efforts to emigrate to the Migration Department. Sophie's questionnaire shows that she had already made efforts to emigrate to the USA and to Norway. At that time, her father Hillel was already living in Norway. He was able to emigrate to Oslo on 22 March 1939 to join his daughter Yda and his son-in-law Jacob Fried. Emigration was associated with high financial costs that had to be raised specifically, which was an insurmountable challenge for most Jews due to the comprehensive expropriation measures. Sophie tried to raise funds by selling her artworks to her sister Zilla and her daughter Yiska, who were already living in South Africa at the time.
For reasons still unknown, Sophie was unable to emigrate. She was arrested in Leipzig on 19 January 1942 and deported to the ghetto in Riga, Latvia. At that time, Riga was occupied by Germany in violation of international law. Sophie arrived in Riga on 21 January 1942. After 1943, she is considered to have disappeared.
Whether Sofie was able to make a living from her art, at least before 1933, is unknown. There is a power of attorney in which Hillel Schneider decreed on the day of his emigration to Oslo that his pension would henceforth be paid monthly to his third wife Ida (née Hans) and RM 50 of each pension to be paid to Sofie to cover her living expenses. Some of her artworks are now in the possession of her relatives.